| | |
| --- | --- |
| | Cockpit Displays include analog color LED-pointer |
In addition to the digital LCD, an analog LED-pointer is included around the face of each cockpit display. Depending on the selected function, the analog LED pointer may work as a compass needle, wind angle indicator, amplified boat speed indicator, rudder angle, depth or trim flap indicator etc.
| | |
| --- | --- |
| | Night time viewing and group wise illumination control |
The analog LED pointer can be dimmed continuously down to zero and the LCD can be back lit for night time viewing.
When several displays are located in a group, e.g. in a forward cockpit, they can be assigned the same group number. Adjusting the brightness of one of them will make the others follow to the same brightness level.
A total of 15 groups can be created, with an unlimited number of displays in each group.

Tecnautic Displays offer more flexibility and more safety
Each cockpit display can show all available data of the system, e.g. compass, log, wind, depth or GPS data etc. Data originating from Displays, Steering Wheels, Joysticks or Throttle Stations are distributed in the system over the network cable (CAN bus).
In addition to the bus connection, every display unit can be individually connected to one analog and one digital sensor. For example, a Sonic Heading Gyro can be connected to the "analog" input of a display and the NMEA in- and output of a Compass Sensor can be connected to the "digital" input/output of a display unit.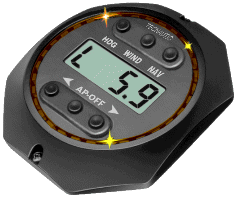 The sensor input can be unrelated to the displayed function on that unit. A Sonic Heading Gyro for example can be connected to a "Depth Display" or a Magnetic Compass Sensor can be connected to an "Autopilot Display", if this makes the installation easier. As you realize already, there is no "Depth Display" or "Compass Display" etc., they are all technically identical, only the printing on the bezel and the number of key buttons may be different.
The size of the displays is 114 x 132 x 17 mm (4.5 x 5.2 x 0.67 in.). They are flush mounted. A small hole in the center is required for installation of the cables.
A display unit that receives signals from a directly connected analog sensor or NMEA-data from a directly connected digital sensor, will transmit these data at high speed to all other displays, steering wheels and the autopilot. A display unit receiving data over the CAN-bus can output them via its digital NMEA-output, if desired.
There is no central processor in the system. Instead there is distributed functionality.

Silent and power saving
Two Autopilot Drive-Boxes can be installed to drive two pumps, either alternating or parallel, in an augmentation mode, where the second pump starts only when a higher rudder speed is needed.
In Slow Mode with individually steered rudders or stern or pod drives, the Drive-Boxes will command individual steering angles.
On larger vessels, where constant hydraulic pressure is available, the same Autopilot can drive electric servo valves or proportional valves instead of the rudder motor.
One FADEC-Box for each engine controls the throttle and shift and - depending on the model - the Trolling Valve and engine start circuit. Clutch engagement is always gentle, with no rocking. With a trolling valve installed, clutch pressure is increased steadily, not abruptly.

Bus Cable: cannot be disturbed
Fly-By-Wire steering, instruments, autopilot and engine controls are connected with identical cable. The cable has two wire pairs, one for data and one for the supply. If custom wiring is selected, branching of the bus cable is accomplished with RJ-45 connectors. These can be installed with a simple crimp tool. Standard cables are shipped with connectors already installed.
The TECNAUTIC network is based on a time driven CAN© protocol. It has a so called Multi Master Architecture and it guarantees data transmission within a defined time. Most other protocols slow down when an increasing number of nodes (equipment pieces) is connected to the bus. Not so the Tecnautic CAN bus. Transmission speed is 125 kbit/s. The distance between any two nodes on the bus may be up to 200 m.